BOOKS, BAGS, & BLING – Big Summer Sale Week
AUGUST 16-22, 2022
Gently used books, handbags, and costume jewelry.
Downstairs at the library. Enter at the lower entrance at the end of the building. 
Hours:  Monday, August 16 – 10-8
Tuesday, August 17 – 2-8
Wednesday, August 18 – 10-8
Thursday, August 19 – 2-8
Friday, August 20 – 10-5
Saturday, August 21 – 10-2
Sunday, August 22 – 10-2
LONGEST TABLE 2021 – Happily Ever After
October 2, 2021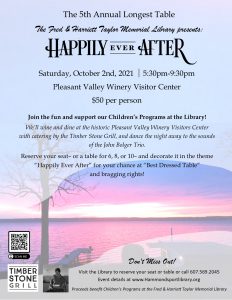 LONGEST TABLE 2021 RESERVATION INFORMATION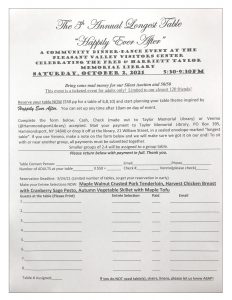 OUR BOOK SALE ROOMS
Open every Saturday from 10 to 2
July Specials will be "pop up" and posted in the Book Sale Rooms.
Enter at the lower end of the building, follow any posted instructions, and browse the extensive selections!
DONATIONS
We are accepting donations for our Book Sale Rooms … Books, DVDs, Music CDs, Audiobooks, Puzzles, etc., that are clean and in good condition. If you have a lot to donate, please call us at 607-569-2045 to make arrangements. If you're not sure if we can accept certain items, please ask.
We are also accepting donations of gently used HANDBAGS and JEWELRY for our Big, Week-long Summer Sale in August.
All proceeds from sales benefit the Fred & Harriett Taylor Memorial Library.
Thank you for thinking of us.

Hammondsport Book Club
The Hammondsport Book Club will meet on Monday, August 9, 2021, at 6:45 pm. The August book selection, The Four Winds, by Kristan Hannah, is available for checkout.
The book club is open to everyone and new participants are always welcome to drop in.
More information is available at the drop down menu at the top under Library Book Club, such as book descriptions and upcoming titles.