EFFECTIVE August 17, 2020
EFFECTIVE IMMEDIATELY …. August 3, 2020
Notice:

HOLDS will be available system wide through STARCAT as of Monday, July 20, 2020.
As of Monday, July 20, 2020, you will be able to place holds on items throughout our system. Search our online catalog, STARCAT, for the items you want. You will receive an email or a telephone call when we have received your materials and made them available for CURBSIDE pick up.
July 13, 2020
RETURNS
You may start returning library materials effective immediately. You may use the drop box on either side of the building.
June 25, 2020
From the Director
Thank you to our library community for the patience and support you have offered us during these difficult and uncertain times. After following all the guidelines to ensure the safety and health of our patrons, volunteers, and staff, we are happy to say we will be able to offer CURBSIDE PICKUP come June 29th!
We wish we could tell you exactly how long we will be sticking with curbside pickup and what the future weeks and months will look like, but unfortunately, things change daily and we can't give you those timelines as we, ourselves, don't know them.
In the meantime, rest assured we are keeping up with all the recommendations and are working hard to offer you safe service! Thank you so much for your understanding, flexibility, and continued love for our Library.
June 18, 2020 Sally Jacoby Murphy
Curbside Pickup Starts Monday, June 29, 2020
This is what it will look like —
Call us in advance at 607-569-2045 with the materials you want or email us at hammondsport@stls.org. Materials will be limited to what our library has available, as interlibrary loan will not be available initially.
Someone will be able to answer your questions during our modified schedule:
Monday & Wednesday from 10-6, Tuesday & Thursday from 2-6, Friday from 10-5, and Saturday from 10-2.
To learn if we have specific titles, authors, or movies available:
Check our catalog, STARCAT, available at hammondsportlibrary.org. You may place holds on STARCAT. Only library materials that we own will show on the catalog and all holds will be for pickup at Hammondsport.
Or, you may call us during our modified schedule or email us at any time.
Or, you may also message us on Facebook or Instagram with your requests. We will do our best to help you.
We will call or email you when you materials are ready to be picked up.
Pick up times are scheduled for Monday & Wednesday from 12-2 and 4-6; Tuesday & Thursday from 4-6; Friday from 12-2 & 4-5; and Saturday from 12-2.
PICK UP: You will come to the front door at the William Street entrance. A table will be set up inside the foyer where a staff member or volunteer will give you your library materials, already checked out to you. We ask that you wear a mask when you pick up your materials.
Please feel free to call us if you have any questions.
These LIVE Events are a lot of fun!
THURSDAY CRAFTING with Sally Jacoby Murphy
LIVE on Facebook at 12:00
The upcoming craft will be announced each Tuesday on Facebook. Stop by Facebook for the Live video on Thursdays at noon. If you can make the Live video, you can watch it later. Videos from all the Thursday Crafting presentations are available on Facebook at any time. Try one or try them all!
Download Books with Libby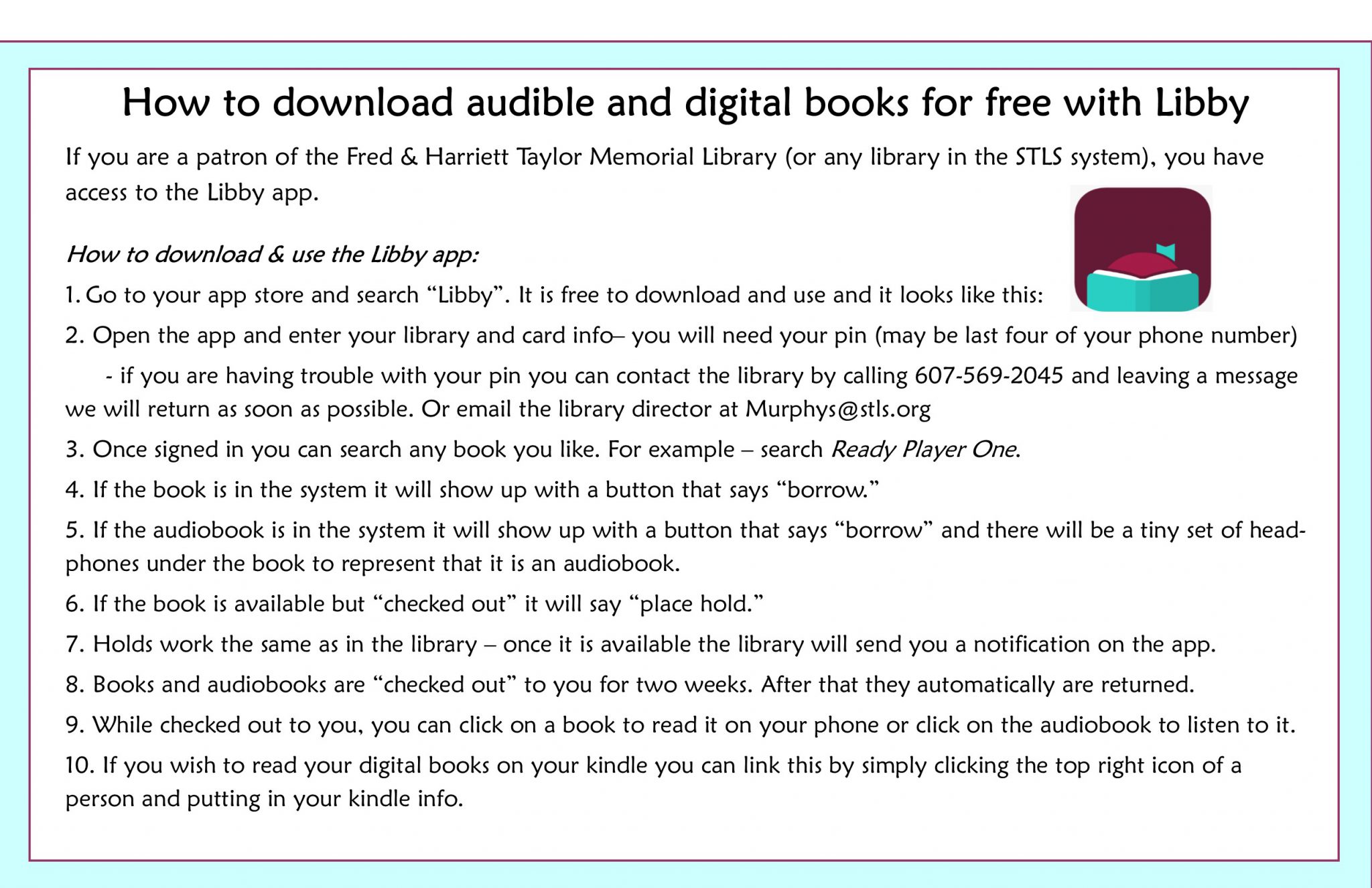 How to Make Your Own Mask
Here is a link from the CDC – Centers for Disease Control and Prevention (cdc.gov)
And here is a link from gizmodo.com on how to make a face mask from a t-shirt or coffee filter.
Take Care & Stay Safe!!!