Coming in August … Our Biggest Library Sale of the Year!
BOOKS, BAGS, & BLING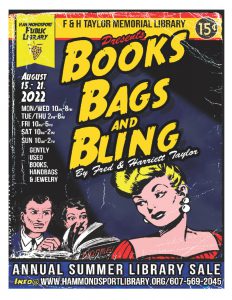 Our Annual Summer Library Sale is Monday, August 15, 2022 through Sunday, August 21, 2022, which is the Hammondsport Crafts Festival weekend.
Sale hours will be our normal open hours, plus Sunday.  Monday, 10-8; Tuesday, 2-8; Wednesday, 10-8; Thursday, 2-8; Friday, 10-5, Saturday, 10-2; and, Sunday, 10-2.
We will have books, audiobooks, dvds, music cds, puzzles, handbags, totes, and costume jewelry. And, we have a room dedicated filled with children's books.  
NO

Knitting Drop In

during July and August
Knitting Drop In will resume on Tuesday, September 6, 2022 at 5:30 pm.
Take a Moment to Browse our Website
Check out the "Calendar" for upcoming events.
Read our latest monthly "Newsletter"
and discover the activities offered throughout the month.
You are welcome to participate!
Borrow a digital book, audio book or magazine
to read on your computer, tablet, or phone.
Check your account.
Place a book or movie or audiobook on hold.
Explore!
OUR BOOK SALE ROOMS
Open every Saturday from 10 to 2 unless otherwise noted.
Enter at the lower end of the building, follow any posted instructions, and browse the extensive selections!
SPECIALS
JUNE – All

ROMANCE

books are half price.
DONATIONS
We are accepting donations for our Book Sale Rooms … Books, DVDs, Music CDs, Audiobooks, Puzzles, etc., that are clean and in good condition. If you have a lot to donate, please call us at 607-569-2045 to make arrangements. If you're not sure if we can accept certain items, please ask.
All proceeds from sales benefit the Fred & Harriett Taylor Memorial Library.
Thank you for thinking of us.

Cover of the book The Alice Network, by Kate Quinn
Hammondsport Book Club
The Hammondsport Book Club will meet on Monday, July 11, 2022, at 6:45 pm.  The July
book selection, The Alice Network,  by Kate Quinn, is available for checkout.
The book club is  open to everyone and new participants are always welcome to drop in.
More information, such as book descriptions and upcoming titles, is available at the drop down menu at the top under Library Book Club.