BOOK SALES FOR 2021
February 8 through February 13, 2021
BOOK, BAGS & BLING … Big Summer Library Sale
August 16 through August 22, 2021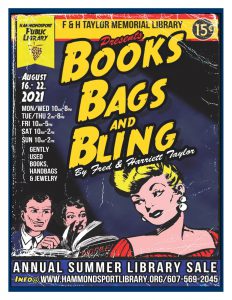 Book Sales are held in the lower level of the library during the hours shown below. Visitors enter at the outside lower entrance.
All hardcover books are $2 and softcover books are $1.  The August sale also includes gently used hand bags and jewelry, as well as books, DVDs, music CDs and puzzles.
We have a large selection to browse.
August Books, Bags & Bling Hours:
     Aug 16     Monday 10 am to 8 pm
     Aug 17     Tuesday 2:00 pm – 8:00 pm
     Aug 18      Wednesday 10 am – 8:00 pm
     Aug 19     Thursday 2:00 pm – 8:00 pm
     Aug 20     Friday 10:00 pm – 5:00 pm
     Aug 21     Saturday 10:00 am – 2:00 pm
     Aug 22     Sunday 10:00 am – 2:00 pm
Book Sale Schedule
The Fred & Harriett Taylor Memorial Library holds two book sales during the course of each year. We have a week long sale in February, and another during the third week in August, to end on the same weekend as the Hammondsport Village Craft Festival.
Saturdays All Year
The Book Sale Rooms are open to the public every Saturday from 10 am – 2 pm. You must enter through the door at the end of the building. Masks are required and social distancing will be practiced.
Special Book Sales
These will be announced on this page, on our website, on facebook, on booksalefinder.com, in the local newspapers, as well as with posters throughout the village of Hammondsport. All proceeds from these sales go to benefit the library.
Book Donations
Donations of books, audio books, paperbacks, DVDs, music CDs and puzzles will be gladly accepted during open library hours. We greatly appreciate these donations as our book sales are our biggest fundraising events of the year. 
Please do not donate encyclopedias, magazines or Reader's Digest Condensed Books, as these do not usually sell. We ask that you do not bring books that are dirty, falling apart or musty. Receipts for donated materials are available upon request.